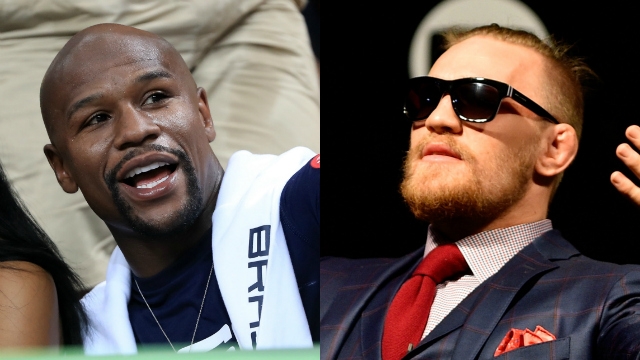 It seems now more than ever before that Conor McGregor and Floyd Mayweather are on a collision course to meet in a fight that could go down as the biggest bout in combat sports history.
"I have my eyes on one thing and that's Floyd Mayweather," McGregor said. "That's the thing I have my eyes on."
While the UFC lightweight champion is getting ready to become a father, he is also getting ready to step into the ring with Mayweather, potentially. People have been curious and anxious to see a fight between them for ages now, and now that Dana has given us a green signal, we are hoping for the biggest fight ever to grace a ring by the end of 2017 between the two biggest stars of their sports.  Initially, Dana offered both fighters 25$Million each and was heckled instead by Mayweather since he quoted his price to be a $100 million.
Recently, McGregor won the UFC lightweight title after fighting his way up from 145 pounds to 170 pounds in UFC. He is willing to sit out all of 2017 if he gets a chance. This fantasy of his started after McGregor (21-3MMA, 9-1 UFC) became the first two-division champion in UFC history against Eddie Alvarez at UFC 205. Since then, all McGregor wants to do is knock out Mayweather.
Dana White has made the first offer to both fighters and that is how we know that the only thing left to decide is the numbers both will fight for. McGregor wants to actually go and meet Mayweather in person to discuss the matter. He said,
"Me and Floyd have got to get together and talk and figure it out the same way he and Manny Pacquiao figured it out. Once we come to a number, once we come to a set number that I'm happy with and he's happy with, then we go to the customers. Then we go to the promoters, the buyers, and then we get it done. That's next. I'll go to Vegas. I'll handle the commission, or we'll figure that situation out and then we'll come to a dotted line. This is happening."
Secondly, we will be hearing a lot of talk around the undercard building and the possibility of largest pay per view audience ever. If they succeed in deciding all elements, the event will have all the bling and zing to promote the most anticipated fight in MMA and boxing history yet.
Please follow and like us: