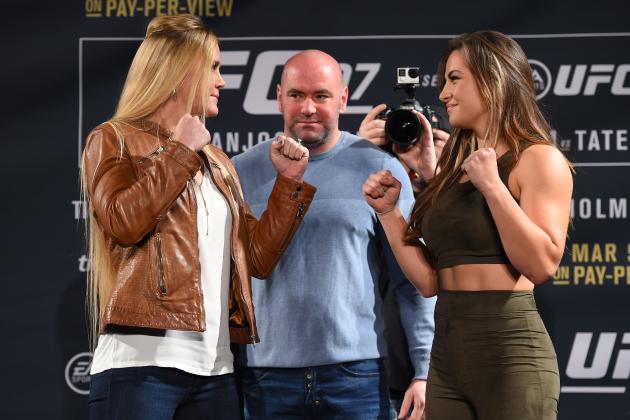 It's time to break down the co-main event that might as well have been THE main event as the UFC Women's Bantamweight title is on the line!
'The Preacher's Daughter' Holly Holm goes toe-to-toe with Miesha 'Cupcake' Tate.
Both these fighters do not have much in common apart from one thing – they've both faced Ronda 'Rowdy' Rousey, but only one of them was victorious.
Celebrated striker and current champion Holly Holm KO'd the once (thought) INVINCIBLE Ronda Rousey and snatched her title from her in not more than 2 rounds, while doggedly determined 'Cupcake' tried TWICE to deal Rowdy her first loss, but came out short.
But styles make fights; and maybe Miesha's power pressure style just might be the answer to Holly Holm's dangerous laser like striking.
Here's a breakdown of the different aspects and advantages each fighter might face when it comes to getting in the octagon:
Striking:
This is a no-brainer. Holly Holm is an internationally acclaimed women's boxing champion turned kick boxer. There is absolutely no doubt whose striking is superior. While Holly can KO her opponent and moves like an advanced striker; Miesha, on the other hand, has power. Cupcake's striking prowess may not be anywhere close to Holly's but she definitely has a puncher's chance. Don't expect any 'wowing' in the striking game on Miesha's part though, it takes years of professional boxing to move the way Holly Holm does.
Grappling:
This is Miesha's bread and butter. Her grappling is definitely superior to Holly Holm's' but can she cover the distance without eating the Preacher's Daughter's precision strikes? Better yet. Holly's never been taken down. We don't know much about her wrestling abilities but she's got 100% takedown defense rate and a pretty strong clinch. If Meisha can manage to provide an answer to Holm's striking, then she can definitely have her second guessing the take down. IF the take down lands, Miesha will prove dominant as we have no idea of Holly's ground game.
Submissions:
Miesha has a pretty decent submission and ground grappling game. Holly on the other hand, we've never seen defend a choke or an arm-bar or any submission situation for that matter. The reason to that may well be because no one has ever managed to take Holm down. If Miesha can get the game to the ground, which is her forte, she will most likely have the edge. But expect Holly to be prepared for a ground war too.
Arsenal:
Both these fighters bring an arsenal of tools to the fight.
Holly's kicks to the head or body have put many of her opponents away. Coupled with her boxing, Holly Holm lands kicks that can KO almost any opponent. Miesha on the other hand is as tough as nails. She has heart, experience and she's seen some wars. Kicks though, might be Miesha's bane as we've seen her being susceptible to them in the past. BUT, that could also work out in Cupcake's favour – the best way to take a person down is wrap the legs.
For some strange reason, Meisha Tate's abilities and prowess holds ALL the keys to victory, but her road to winning the title is filled with dangerous counters and angles that can put her away in the blink of an eye. If Tate can manage to stick to a game plan and keep Holly guessing by pouring on intelligent pressure, then this fight can most definitely tip on Tate's side. But Holly's the champ for a reason, and she's always proved the naysayers wrong. I for one – believe in Cupcake.
Who gets crowned the new Queen of the Bantamweight Division? Sound off! Let us know!
Please follow and like us: