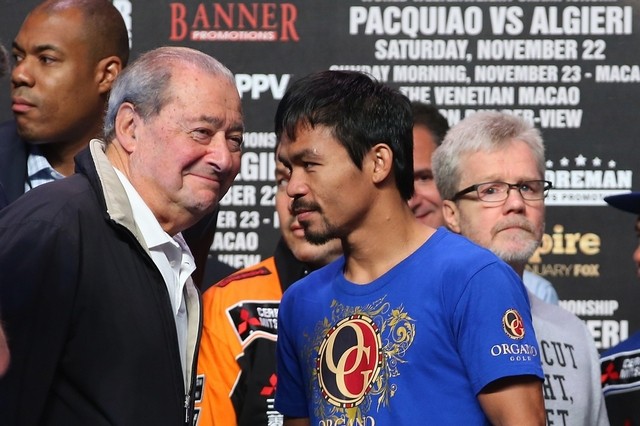 The potential mega-fight between the two welterweight stars Manny Pacquiao and Amir Khan is not off and there is a possibility that the fight can still happen in November, according to Pacquiao's promoter Bob Arum.
Arum also revealed the reason behind the initial withdrawal of the fight that was supposed to take place on April 23rd. According to the "Top Rank" chief, the investors that were supposed to finance the fight simply failed to come forward with their proposed offer of $38 million.
Arum said:
"[The Khan] fight can't happen in April because the people who were putting on the money were not able to," Arum said. "Hopefully, that fight can happen in November."
"I don't know yet where [Pacquiao's return] will be, we are discussing various places, but obviously the fight finances is always there as part of making the fight, so that's not a problem." Arum added.
2017 looks to be a great year for boxing, as there are some huge matchup in the pipeline. "Money" Mayweather has already announced that he will come out of the retirement to face only the UFC Champion Conor McGregor. We also have a huge unification heavyweight title fight between the Anthony Joshua and Wladimir Klitschko. Last but not the least, in the middleweight division, "God of War" Golovkin will fight a dangerous opponent Daniel Jacobs on March 18. If Pacquaio-Khan is confirmed for November, it will like icing on the cake.
Please follow and like us: