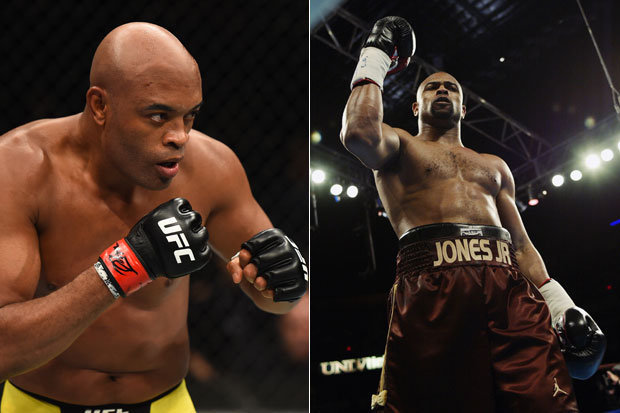 Former four weight division world champion Roy Jones Jr. is set to discuss terms with UFC regarding a matchup with UFC legend Anderson "The Spider" Silva.
The 48-year-old boxer has been trying to set up a boxing fight with the 40-year-old Silva since 2013 who holds a record for longest title streak in UFC history.
The talk of boxing vs. MMA has been raised by none other than the boxing legend Floyd Mayweather Jr. and MMA lightweight champion Conor McGregor, as both fighters are trying to make this fight into a huge pay-per-view. Jones believe if this fight is confirmed then the UFC can include his fight with Anderson as its undercard.
Both fighter are at the twilight of their careers and this fight could potentially give them both a great send off. Recently Jones was back in action when he destroyed Bobby Gunn in a one-sided affair.
Jones Jr. said:
"Me and Anderson have, for five or six years now, been trying to get a boxing match between us, We're two great icons of our sport, two legends, and it's not often you get to see two legends get in the ring together. That's been going on for the last five or six years, and if Conor and Floyd does fight, [our addition] would make it a big event."
"I mean to put us on the undercard as the co-main would be a really, really big event. Not only us fighting but people want to see a boxer versus a MMA guy."
Back in 2013, their fight looked like a done deal, unless the Brazilian fighter lost to Chris Weidman, which made the matters complicated and their fight was called off.
Jones Jr. said:
"[2013] was the closest [we got to it], Had he not have lost to Weidman, I think it would have happened. … Anderson still wants it, he's about 40 years old, he's reaching the end of his career, he's reaching the end of his prime zone. I'm reaching the end of my primal age, so if we're gonna make it happen, there's no better time than now."
"I'm thinking he's feeling the way I'm feeling, and I know he's been wanting to do it, because as soon as I [mentioned it] he came back and said 'why should a man not be allowed to achieve his dream?' and his dream is mine, it's a great situation for both of us that we both want."
There is a lot of talk regarding these types of fight should happen or not, some say it will tarnish the sport, some say due to the fact one guy is a specialist boxer and the other one is a specialist mixed martial artist. The fight will be hugely in favor of one person, and who would want to see a one-sided contest. If it's an exhibition match then yes, but if it is a competitive match then a Big No!
Please follow and like us: