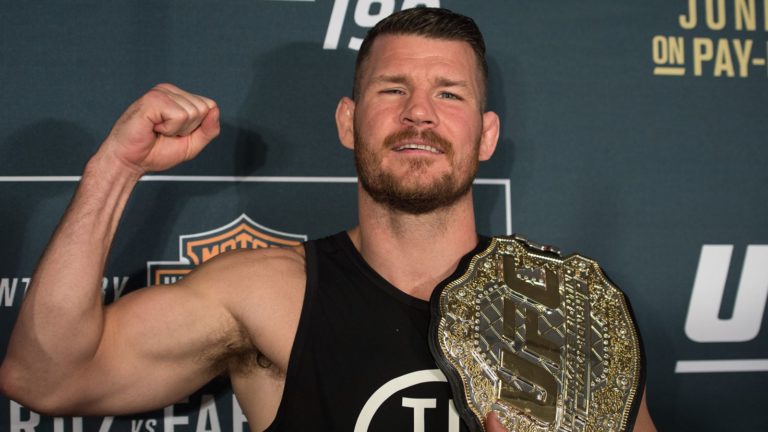 Hard work always pays off, and Michael 'The Count' Bisping is the living example for it.
Since Bisping's debut that came almost 10 years ago, the dreams of this incredibly hard working fighter were finally realized this year when he knockout UFC middleweight champ Luke Rockhold to become the top man in 185lbs division.
Even at the age of 37, Bisping is still going strong. In his 1st title defense, he took on the most devastating finisher in the history of the sport, Anderson Silva. Win or lose, Silva was fighting for the last time in his career and he gave his all! Even though Bisping took hell of a punishment from the Brazilian legend, but he was able to defeat the man in a unanimous points decision. Except for 3rd round when he got almost knockout due to poor judgement, Bisping dominated the fight and landed more punches than his opponent.
After the fight Bisping said: "That's why I was so emotional after the fight. Of course the fight was in England, it's a fight I've always wanted. I still wear the scars from that fight on my face to this day. Regardless of whether he was the champion or not the champion, for me it was a personal goal achieved, something I aspired to my entire career. He debuted against Chris Leben a couple of days after I won 'The Ultimate Fighter' finale. I was there ringside and I thought to myself I want to fight this guy, I know I can beat him. For me, it was a personal goal achieved and I'm very, very proud of that fight."
After the huge success Bisping has had in 2016, 2017 promises even bigger success as he is lining up top contenders for his title defense. Other than UFC, Bisping has also featured in 'xXx' movie sequel directed and produced by Vin Diesel.
Please follow and like us: