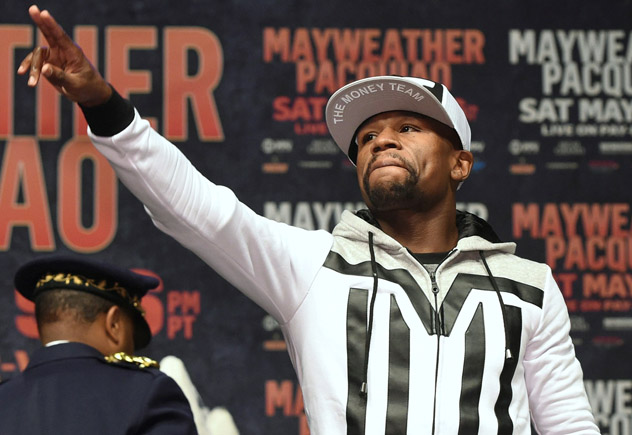 Floyd 'Money' Mayweather Jr. (49 – 0) might have to change his name to Floyd 'Mouth' Mayweather if not 'Drama' Jr. The undefeated, retired, self-proclaimed greatest of all time sure loves riling fighters up with his thoughtless banter, teasing at making a comeback to the ring, if the price is right.
Floyd Mayweather is known to be the drama queen of the boxing world. It took millennia to get him to fight Pacquiao in the biggest PPV in fight history, only to win via lack lustre, boring fight of the ages that left NO-ONE impressed. With one last fight on his contract he chose to fight Andre Berto instead of picking a real 'challenge', probably wanting to go out with a fizz than a bang, protecting that untainted record – and that's exactly what happened.  Just like that the 'best' ended his career, vowing never to return to boxing again.
But the mouth never stops running obviously.
Recently stirring news with hints and rumours of a possible comeback, the 39 year old made some serious statements about up and coming, dangerous KO artist and 160-pound Champion Gennady Golovkin in a recent interview,  calling him 'easy work'.
"I can barely make 147, so how am I gonna fight at 160? Triple G, not being disrespectful, but he's straight up and down, no special effects. That's easy work."
Boxing trainer Abel Sanchez also recently added to the rumour mill with some pretty definitive rumour killing stuff:
"[Mayweather] is saying things about a comeback, he just seems to be fixated on Golovkin. I've seen three or four pieces in the last couple of weeks where he's talking about beating Golovkin. It looks like he's laying the ground work for something, whether it's Golovkin or somebody else. Floyd's laying the ground works for a comeback."
Who're we kidding here? The man with many names, ('drama' being one of them) is never going to take a fight that easily, especially against someone who could tarnish that pretty looking record of his – not without handicapping the sh*t out of his opponent anyway. Mayweather may be many things but he's not an idiot. He'll play prissy power games to get into your head first, mentally tiring you until you get in the ring with him where he'll physically beat you. He wants GGG to call out Andre Ward out first, beat him and then Mayweather might consider fighting GGG.
"When you hear stuff about Triple G, like I said before, I told Triple G what he had to do if he wants a fight with me. He's gotta call out Andre Ward, beat Andre Ward, and then I'll fight him. I haven't seen him call out Andre Ward yet."
Problem here is that Andre Ward is fighting two division above GGG, and the chance of them clashing, as per their opponent trajectory goes, is not very likely. They're both intending on fighting different people in complete separate weight classes. The fights just don't entwine sensibly.
Basically Floyd wants GGG to go UP two divisions, get a victory, and then go DOWN two divisions to face Floyd Mayweather.
What the hell is that?
Ask GGG to fight with one arm instead. The weight-gain AND cut will leave GGG drained to fight Mayweather.
Even stranger than all 'Money's' b-s, is that he's interesting in fighting the WBC 147-pound champ Danny Garcia – who's not even a hot draw, champion sure, but not the hottest ticket even for Mayweather's standards.
"If I did think about coming back, there's only one name I'm looking at and that's Danny Garcia. I have to say Danny Garcia because you look at Danny Garcia, he's undefeated and he's a world champion. If I'm going to fight a guy, it's going to be a world champion."
Well the Mayweather put the 'Money' where the 'Mouth' is? Or is he going to lilly-foot around this as he does in his fights?
Sound off and let us know!
Please follow and like us: