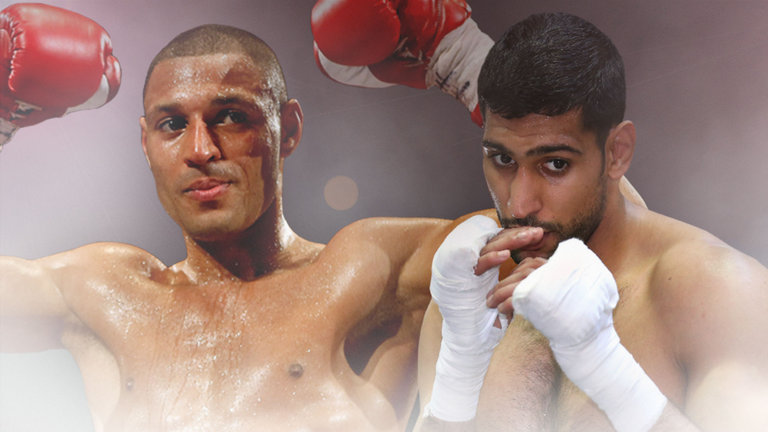 Amir King Khan (31-4, 19 KOs) says that he is not shying away from fighting IBF welterweight champion Kell Brook (36-0, 25 KOs), but this will only take place when Brook part ways with his Promoter Eddie Hearn.
Khan said: "It's not going to happen! It seems to me like they don't want it. I gave them the opportunity to take the fight, but they don't want it. That fight is never going to happen. If it happens it'll be a miracle. I'm ready for Kell, whenever. But if he's with Eddie Hearn it's not happening."
"I'm in great condition." He continued. "Obviously the fight didn't go okay, it didn't go the way I wanted it to go, but now I'm back in UK and am fine. All the tests were fine, and I'm ready to go again. I'm still young and I'm still hungry."
Still unbeaten in professional career, Brook is expected to return to action on August 27th for the unification fight, against the WBO champion Jessie Vargas. Vargas' only career loss has come in his penultimate fight against Timothy Bradley. While Brook who was looking to fight Khan before he choose to move two weight divisions above his weight class and challenged Canelo. The fight didn't go exactly the way Khan had planned for as he got KO'd in the 6th round with a powerful punch. Although, Brook has managed to remain unbeaten in his career so far but his long list of opponents doesn't excite you that much.
While Khan has had some differences with Eddie Hearn in the past and says that he can't fight Brook unless Hearn stays away from the negotiations.
King Khan 29, who has been medically cleared to fight again, now plans to go back to welterweight division where he is still the mandatory challenger to Danny Garcia for the WBC world championship. However, this will not be an easy fight for Khan to take comparing it with Canelo it would be peanuts, the former WBA light-welterweight champion arguably won every single round until the 6th round before one deadly punch knocked him out so he should take heart from this and have faith in his abilities that he can out box Garcia.
Please follow and like us: