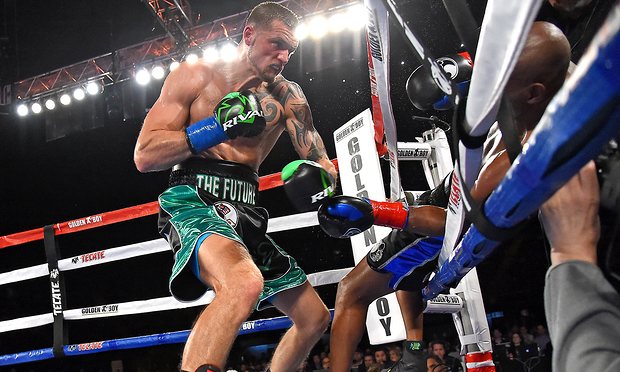 Bernard Hopkins has come out with a bizarre excuse that he was deliberately thrown out of the ring by the number two WBC light heavyweight contender Joe Smith Jr. on Saturday night at the Forum in Inglewood, California.
The 51-year-old boxing great lost the fight by count out after he was unable to return to the ring within allotted time following his 8th round knockout.
Hopkins said: "He got frustrated. Next thing I know he was throwing me out of the ring. I injured myself and hit my head first and hurt my ankle. I would've come back. I went out as a solider."
After he was fell throw the ropes, Hopkins had 20 seconds to come back inside the ring but he failed to do so and the fight was stopped. In the post-fight interview Hopkins tried to bring some controversy to Smith's win, however the replays clearly showed there was no foul play from Smith's end. Hopkins should have taken a high road and show some respect to his opponent.
This was the last fight of Hopkin's career as he confirmed it afterward.
"This is my last fight, I promised it would be and you come to that point in life where it is final and I'm happy with my retirement," said Hopkins. "I'm not in denial-Joe was a tough, heavy hitting fighter."
This was a sad end to a 28 year illustrious career of "The Executioner", in which he fought won 55, and lost just 8 times. His most famous victory came against Oscar De La Hoya, where he won WBO middleweight title. His reign as a middleweight champion lasted from incredible 9 years, from 1994-2005. He was ranked at number 3 by The Ring Magazine in their list of top 10 best middleweight title holders of the past 50 years.
"The Alien" will be missed by boxing fans all over the world.
Please follow and like us: