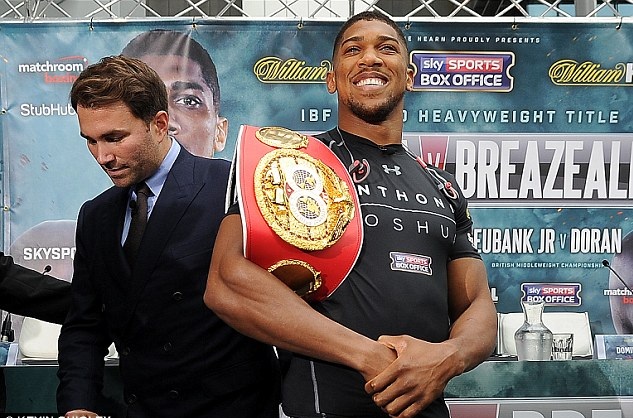 World Heavyweight Champion Anthony Joshua believes those found using illegal drugs should be banned for ever. Joshua (16-0, 16 KOs) is about to defend his crown against Dominic (17-0, 15 KOs) Breazeale for the 1st time since defeating Charles Martin to become the new IBF champion.
Doping is a serious issue in the world of sports, especially in boxing many boxers have been found guilty and banned in recent time. Joshua has his own take on how cheaters should be treated, and explains how he has been part of random drugs testing during his boxing career.
Joshua said: 'I've been tested twice in this training camp; once at 6am and once at 10pm, they came at 8pm but had to wait two hours to take blood because I'd just finished training. they came to Nando's once! Normally they won't let you eat but I had to because I'd just finished training so they said they'd come with me.'
Joshua is among the few pugilists who have signed up with UK's Anti-Doping programme Whereabouts. He explains how tough the regulations of anti-doping agency are these days.
'You give them an hour in the morning and an hour at night so they can randomly turn up in that hour,' he said. If I give them between six and seven and they turn up at 6.59 and I've gone out, I've missed it and that's on me and I get a strike. If you get three strikes, that's a ban.'
'I have to let them know where I'm sleeping and where I'm training. It's a job in itself to manage my whereabouts. I've got to put my home address into an app, then if I train somewhere else I have to put in that address. But I've had six years of testing now so I'm used to it. I've always been introduced to the hard work side of things, and watching what I've been eating.'
AJ doesn't believe doping is such a major concern in Britain but it is a problem we need to cope with.
'It's a clean fight, you've got 10 weeks to prepare yourself as well as possible and you do want the best man to win because they've trained harder. It's always interesting to find out what substance a person has been taking and the benefits of it so you know the reason for them taking it. When you find out, you can judge whether it was a genuine mistake. If it was something in an Omega-3 tablet or a growth hormone, say.
'You have to look at that because some people do make genuine mistakes, you can't put everyone in the same box. They should have a court system where they judge everyone individually. But anything that gives you genuine advantages over your opponent should be a ban for life.'
Please follow and like us: